A Little Big Book of Dreams with Holly Stinnett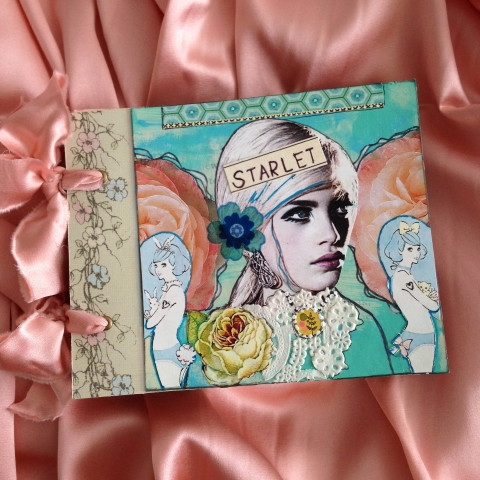 A Little Big Book of Dreams with Holly Stinnett
In this altered art collage mini book, it's all in the tiniest of details!
Holly Stinnett will show you how to capture your dreams in a small book of chronicles that will be filled with vibrant and inspiring imagery, powerful thoughts, stories, and words. Along with your storytelling, you will learn how to add pretty petite illustrations and layers of color, paint, and fun textures. You'll utilize vintage books to pull words and portions to create clever and unique narratives. All of this will be wrapped into a fun little BIG book of dreams!
For all levels.
Scroll down for more detailed information about the workshop and about Holly.
Saturday, November 15, 2014 (10:30 a.m. - 3:30 p.m.) - $115
In this class you will learn how to create 4x4 pages covered with beautiful papers, figures, and images and a myriad of other elements to depict a story, style, dream, interest, or vision...be it girlie-girl, grunge, nature lover, pet lover, art lover...whatever makes you sing.
Your pages will be bound in a whimsical book with a suitable binding...raw silk ribbon, jute, waxed linen thread, raffia, cord, or any of an abundance of materials supplied in the workshop.
All of the visual imagery along with lots of other special extras will be supplied in your class fee.
Supply List:
- tiny detail scissors for precise cutting
- fine tipped black (archival if possible) marker
- Beacon Fabric-Tac glue or glue sticks (fabric glue helps avoid paper buckling and provides smooth adhering)
- ink pad for edging
- your favorite scrapbook or card stock papers
- paper cutter
- hole punch/eyelet setter (any kind of hole punch and metal eyelets)
- Making Memories kit or Cropadile - if you not have, I will have mine on hand
Optional:
- your favorite paints in light colors
- markers/pens
- gesso
- any favorite pre-cut 4x4 papers, card stock, or scrapbooking backgrounds
- special words, quotes, or books to cut words and phrases from
Holly Stinnett has been teaching since mid 2000. She has taught various mixed media courses from sewing to painting to collage in both public spaces and private events throughout Southern California. Her artwork has been published in over 20 mixed media magazines and can be seen on her blog, HollyLovesArt.blogspot.com.