Two Days with Seth Apter
Spend one day or two with acclaimed mixed media artist instructor Seth Apter!
52-Card Pick-Up - A deck...52 cards. A year...52 weeks. Make the most of this synchronicity by creating a one-of-a-kind mixed media journal that you can use to document a year in your life, week by week.
Picture Windows - Your photographs are the focus in this workshop. You will create a double-sided hanging photo display piece that is every bit as artful as the pictures on view.
Scroll down for more information about the workshops and about Seth.
52 Card Pick-Up - Saturday, January 17, 2015 (10:30-4:30) - $145
Picture Windows - Sunday, January 18, 2015 (10:30-4:30) - $145 (+ $10 kit fee payable to instructor at the workshop
Both Workshops - $270 (+ $10 kit fee payable to instructor at the workshop)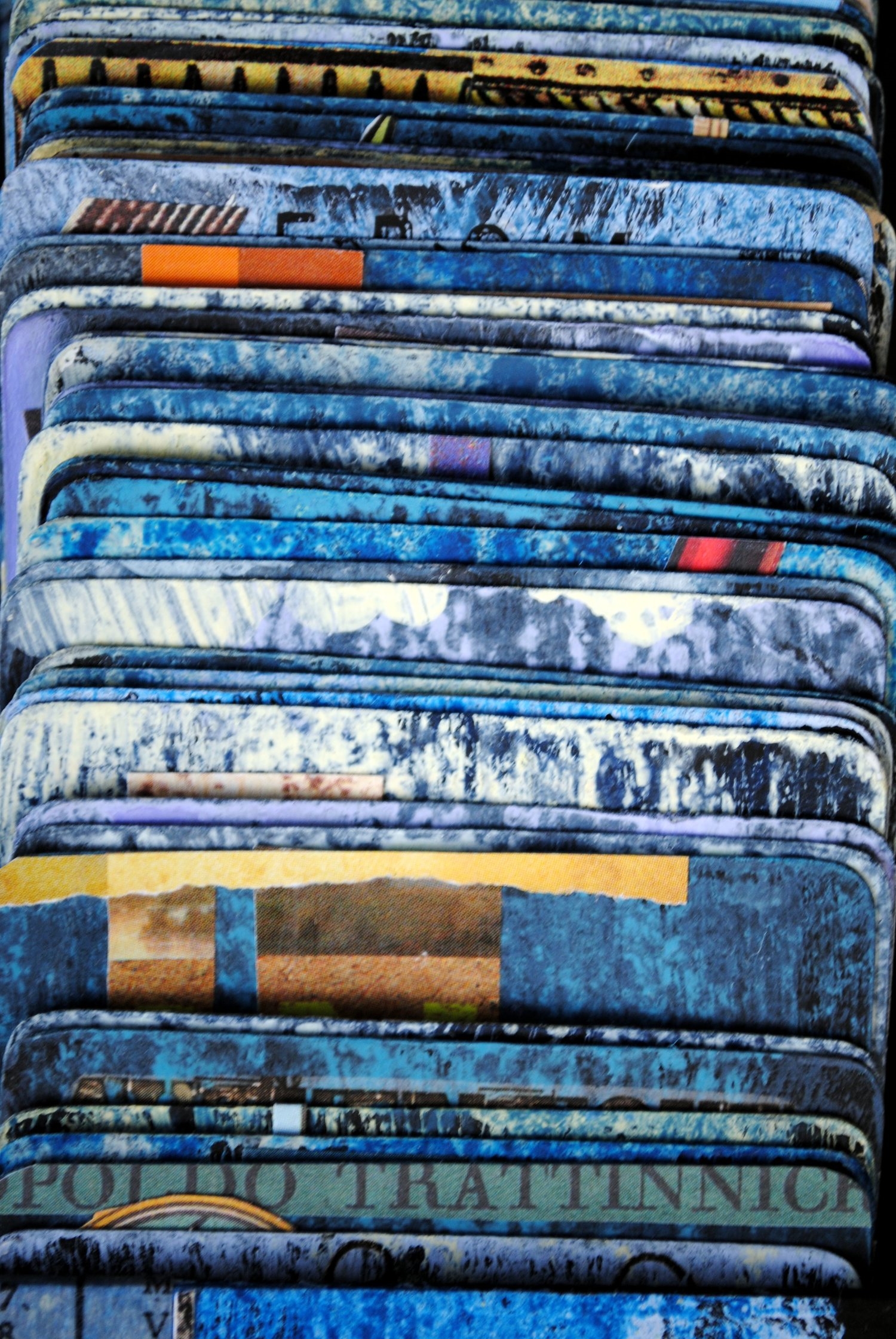 52 CARD PICK-UP
In this workshop, we'll start by taking an ordinary deck of playing cards and, by using paint and paper, end up with a unique and personal journal small in size but large in impact.
Along the way, you will learn the secrets of creating textured and layered backgrounds, the basics of collage composition, and tricks of the trade to tie it all together.
The uses for your creation are limited only by your imagination and can include a place to hold your weekly journaling, goals, documentation, affirmations, drawings, photographs, thoughts, love notes, or anything else.
In this workshop, you will always be dealt a winning hand!
Please bring:
deck of regulation size playing cards*
fluid acrylics (assorted colors)
acrylic glazing liquid (Golden preferred)
paint brushes (cheap bristle brushes work well)
water container
favorite adhesive for collage
spray bottle
favorite pens and markers
assorted small rubber/clear stamps - optional
ink pads (assorted colors) - optional
decorative tape (about 2 feet)
fabric strip or narrow ribbon (between 3 and 4 feet long)
brayer
collage material (decorative and printed paper, ephemera, clip art, rub-ons, stickers, letters, words & phrases in any form, etc.) - remember, we are working small!
* Prior to the workshop, students should coat both sides of all their cards with black gesso.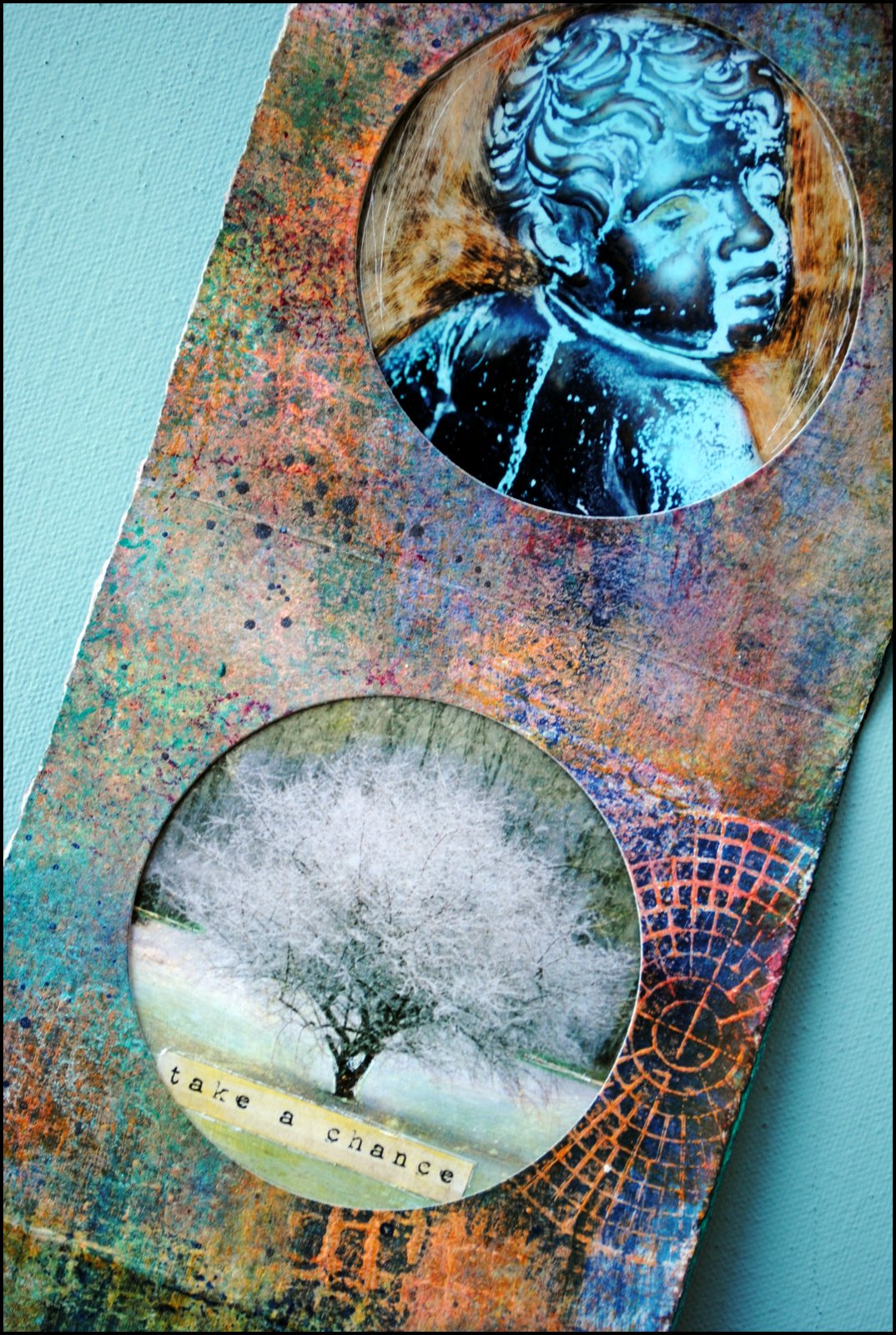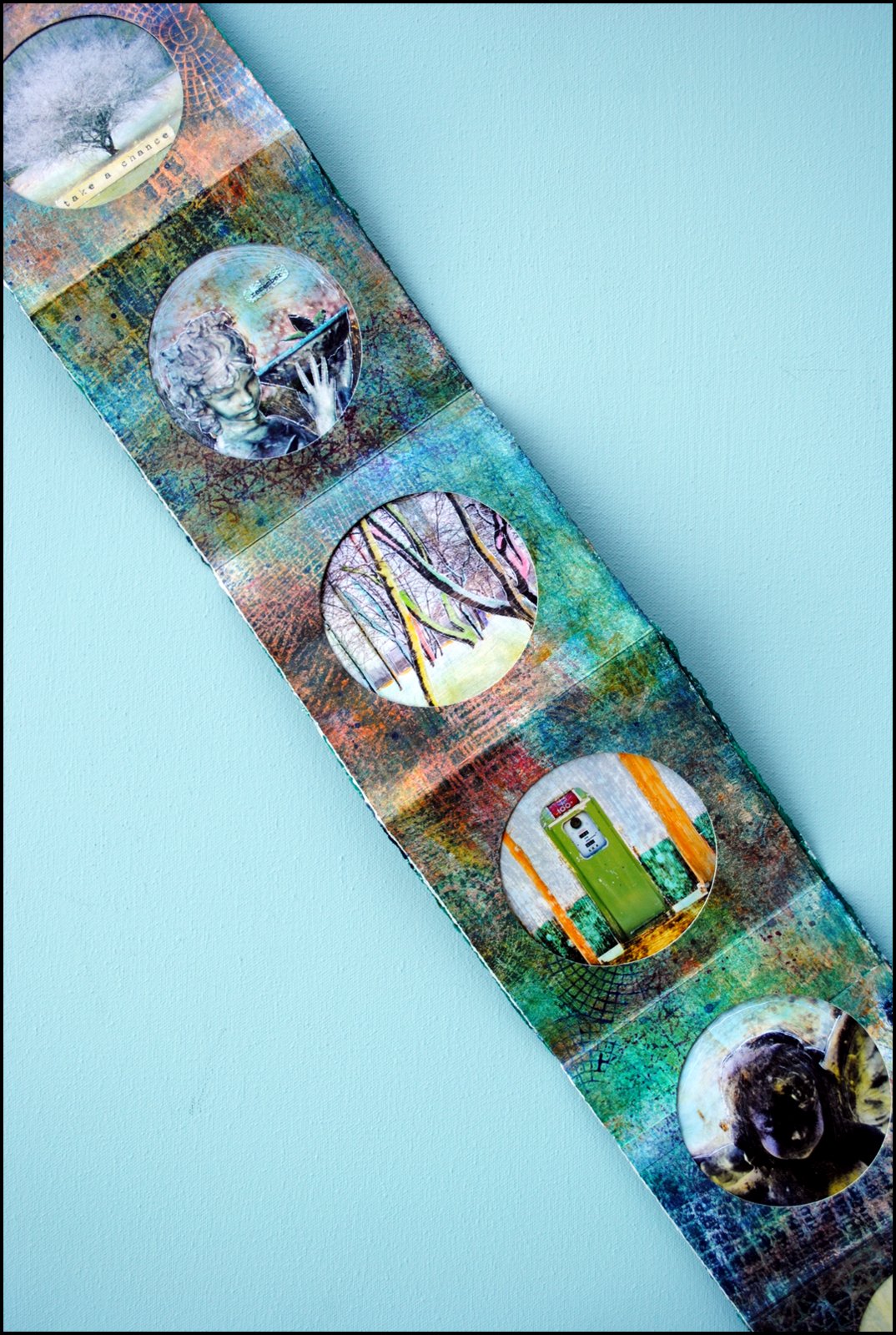 To begin, you will transform large sheets of watercolor paper into beautiful decorative surfaces using a series of layered painting techniques. You will then move on to creating the form for the photo display using folding and die cutting techniques.
Next comes your photo op where ordinary photographs become extraordinary through a series of hand-altering approaches. Experimentation is key here. Your photos might include snapshots of: family, friends or pets; a favorite place; your artwork; some of your favorite keepsakes...the choice is yours. This is the perfect project for some of those old photos you have sitting around in shoe boxes!
Finally, the pieces come together, a hanger is added, and you leave with both a one-of-a-kind mixed media project as well as a slew of techniques to apply to future projects.
Included in the $10 materials fee: Instructor will provide watercolor sheets, use of assorted dies and die cutting machine, eyelets and use of eyelet setter, assorted mixed media materials, and all basic supplies on the list below (to share, in case you are unable to find or bring something).
Please bring:
white gesso
acrylic paint (assorted colors)
watercolor paint (assorted colors)
dye ink pads
water-based brush pens (Tombow, Distress)
photographs (approximately 3 1/2" x 5" or 4" x 6" - these will be cut smaller to fit; your project will include 16 images but it's best to bring extra to practice on and for a greater choice; commercially processed photos are best but home printed photos on glossy photo paper will work)
paint brushes (assorted sizes)
water container and paint palette
scissors, or craft knife and cutting mat
water mister
awl
ruler
double stick tape (1/4" width)
fabric strip or narrow ribbon (approximately one yard)
Seth Apter is a mixed media artist, instructor, author and designer from New York City. His artwork has been exhibited in multiple exhibitions and can be found in numerous books, independent zines, and national magazines. He is the voice behind The Pulse, a series of international, collaborative projects that are the basis of his two books, The Pulse of Mixed Media: Secrets and Passions of 100 Artists Revealed and The Mixed-Media Artist: Art Tips, Tricks, Secrets and Dreams From Over 40 Amazing Artists, both published by North Light Books. He is also the artist behind two workshop DVDs: Easy Mixed Media Surface Techniques and Easy Mixed Media Techniques for the Art Journal.
Seth's live workshops have been held throughout the United States, Mexico, and Australia. He is a member of CHA, a blogger for Spellbinders Paper Arts, and a stencil designer for StencilGirl Products.
Plans for many more exciting artistic adventures are in the works!